Simone Biles Was Surprised That Record-Breaking Performance Went Viral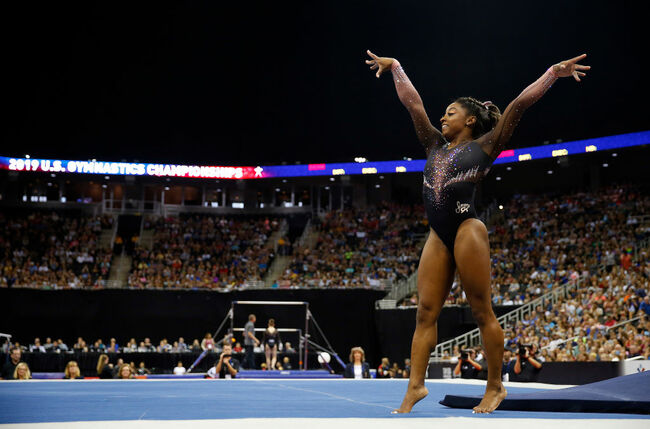 Simone Biles is a force. There is no denying that - especially over the last month or so where she proved that she just keeps getting better and better at her sport and breaking records in competition.
But for Simone, she actually had to remind herself that completing those new skills that broke records in her latest competition are "not normal" even though she has been practicing them for a long time and they feel normal to her now. In fact, Simone didn't expect her record-breaking performance to go viral at all and was surprised by the news coverage of gymnastics in a non-Olympic year.
"I thought that nothing was really going to happen … not too many people pay attention to gymnastics, especially in a non-Olympic year so it was crazy to see how viral it went. It just kept accumulating, and it is still going. It is kind of crazy."
Simone, who is a four-time Olympic gold medalist (no big deal or anything!) was the first female gymnast ever to land the triple-double in competition. She was also the first woman to even attempt a double-double dismount move in competition and nail it successfully.
Commenting on the two skills that she mastered, Simone said:
"It felt incredible... I had trained it for a while now, so it was kind of just normal for me but looking back at the videos, it doesn't look normal and I know it is not normal."
Not normal is what makes you beyond special, Simone!
The 2020 Olympics coming up next summer are going to be a particularly powerful moment for Simone, who recently spoke candidly about how USA Gymnastics had not been looking out for she and other athletes. Her comments came after an investigation reportedly determined that the organization "knowingly concealed" sexual abuse by Larry Nassar, a former doctor for the USA Gymnastics team.
So while Simone is preparing for another all-star year at the Olympics next summer, she is also still healing from the abuse. She herself described this "journey" as having a lot of "highs and lows" while talking to Savannah Guthrie.
But this coming Olympics will be just for Simone.
"Coming back I'm doing this just for me and I think that this is different than the last time around, for me I feel like I have nothing to prove to anyone and I think that's what keeps me in the sport besides love and passion."
We can't wait to see how you absolutely crush it at the 2020 Olympics, Simone. Until then, keep on breaking records and we will keep cheering you on!!
Get more from Sisanie here!
Photo: Getty Images
Sisanie
Sisanie is co-host of Ryan Seacrest's show On Air With Ryan on KIIS FM Los Angeles' Hit Music radio station from 5am-10am.
Read more